My Left Handed Blog!
02/01/2019
My 28 day challenge!
For the month of February, I will stop eating processed sugar, cut way down on carbs and start a Stretching and Strengthing program that will produce a better faster golfswing! I'm just ending 7 weeks of PT for a right rotator cuff tear, Impingement Syndrome, Frozen Shoulder and AC joint arthritis. Exactly! My shoulder is a mess! Because of this bad shoulder, I have to be smart and carefull with my program. I am currently 184.5 lbs and will try to get back to 175 lbs. (My PLAYING weight!)
This is all about being better at Left Handed golf! I have measured a starting point for the test!
My current driver stats with my best shot on my launch monitor are as follows:
Ball Speed: 143.9 mph
Total Carry: 231.4 yards
Total Distance: 247.1 yards
Spin Rate: 2488 rpm
Launch Angle: 14.4 Degrees
My best Left Handed score is: 80
I shot that at San Diego CC.
Here is a Face On video of my swing on February 01, 2019
Not bad for a guy with a bad right shoulder!

Stay tuned for my March 1st post. Let's see how I do!
---
04/04/2018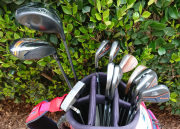 I am so EXCITED about my NEW Left Handed Cobra Equipment!

W.I.B.
Wedges:
Cobra Tour Trusty, 50/08, 56/12, 60/10
Irons:
Cobra KING MB Flow set: 4-Pw, Shaft: KBS C-Taper Tour 120S
3 Iron:
Cobra KING Forged Tec, Shaft: OZIK MFS 65 Red Tie (S)
3 Metal:
Cobra King Ltd, 14.5 degrees, Shaft: Aldila Tour Green ATX 65 3.9S
Driver:
Cobra F8+, 11 Degrees, Shaft: Aldila Tour Green ATX 65 3.9S
Putter:
PING Redwood Anser, 35 inch, Ping Etched Grip
---
01/12/2018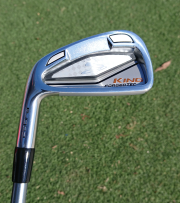 OMG!I just got my new KING Forged Tec 3 Iron! I wish you could hear how solid it sounds! What a great club! I ordered it with the Matrix OZIK Red Tie 65 graphite shaft!
---
10/28/2016
If you didn't know, I have had multiple surgeries on my left wrist. My last surgery was in Oct of 2016. After cleaning out the debris and drilling a couple holes into my Lunate bone, the surgeon needed to do an additional surgery and shorten the Ulna of my left arm. At impact during my right handed swing, my Ulna was striking the Lunate bone in my wrist and creating damage to the Lunate. Unfortunately, the Lunate bone is no longer getting enough blood. As such, I have tremendous pain during my right handed impact. The SOLUTION! I have been learning to play left handed since August of this year. So far, while I do get frustrated on the course, I am happy with my progress. My low round is 95 playing at 6800yds. I have also shot 96 at just under 6900 yds. In order to bring these scores down, I will need to hit my tee shots more consistently solid and 30 - 50 yrds farther.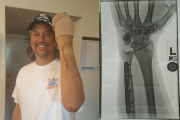 This my arm 6 days after surgery! Ouch!